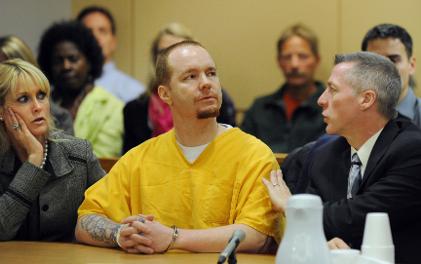 Kenneth Dion looking with contempt at the prosecutor after an outburst during sentencing saying he would never admit to the murder because he didn't do it. Defense Attorney, Andrew Lambert is attempting to control the outbursts. Leigh Bauer, defense council, looks on surprised by Dion's demeanor.
Photo by Anchorage Daily News photographer, Bill Roth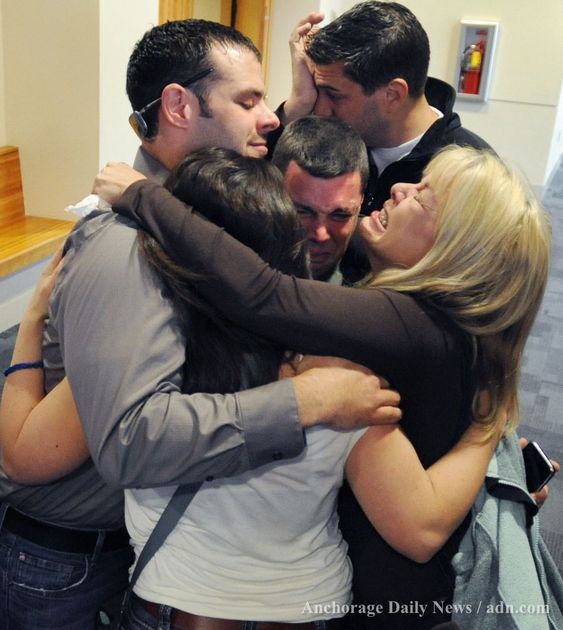 Group hug outside the courtroom! Me, with my kids, Adam, Samantha, and Jason and Kelly Cannon, Adam's best friend from down the street, after the verdict! Unbelievable relief after 17 years! Tragedy finally turned into triumph. A bittersweet moment.
Photo by Anchorage Daily News photographer, Bill Roth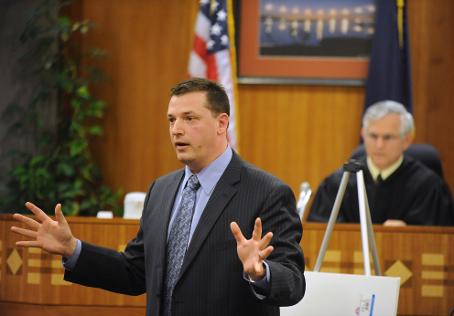 Assistant Attorney General Paul Miovas addresses the jury as he outlines the state's rape and murder case against Kenneth Dion during opening statements on May 17th, 2011. Judge Jack Smith listens in the background.
Photo by Anchorage Daily News photographer, Bill Roth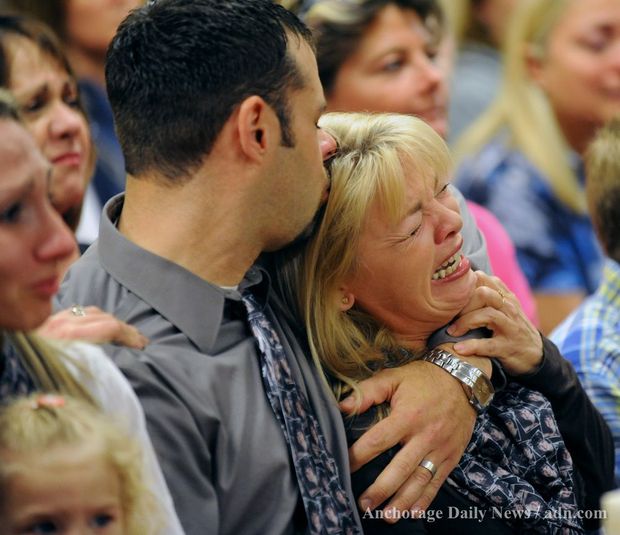 My son, Adam, kissing the top of my head and hugging me tight as we hear the verdict. Guilty, guilty, guilty, guilty. All four counts. The weight of the world was lifted off our shoulders that day, June 15th, 2011. Finally, we have Justice for Bonnie!
Photo by Anchorage Daily News Photographer, Bill Roth
Kenneth Dion was identified November, 2006 when the New Hampshire prison system his finally entered into his DNA into CODIS, our national DNA database. It came back as a match to the DNA found on Bonnie's body and clothing. He had been in the NH prison system for armed robbery since February, 2003. It would take almost 5 years before he was finally brought to trial. There were 6 trial dates set before the trial started May 15, 2011. If collection of DNA on all felony arrests had been in place at the time of the murder Dion would have been identified in weeks.